It is the best care home that we have seen. 10 out of 10. We would definitely recommend it
Dawn S, daughter of resident

We consider ourselves fortunate to have been recommended to Maplehurst who exceeded our expectations.
Chris M, son of resident

Maplehurst is very caring and friendly and it is always a pleasure to visit. The staff are always welcoming
Dawn S, daughter of resident

The provider and registered manager promoted strong values and a person centred culture.
Excerpt from CQC Report
Rated 'OUTSTANDING': At the time of writing, Maplehurst is one of 12 nursing homes (of 2,141 inspected) rated as 'OUTSTANDING' by the industry regulator, the Care Quality Commission.

Family run: We are a family run business grounded in values that put our residents first. There is direct involvement from the owners, at a detailed level.

Personalised approach: We're small enough to preserve that important personal touch, but also large enough to ensure a high standard of care in a stable, safe environment.

A 'home' not a 'hotel': Promoting homeliness, comfort and familiarity.

Contact us today on 01444 455 434 to discuss your situation - we are here to help you every step of the way. Alternatively, you can use the 'Contact Us' form to get in touch.
Exceptional Care
Maplehurst Nursing Home
CQC Overall Rating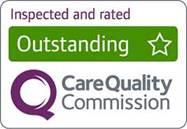 Latest CQC Review 8th July 2021
See the report

chevron_right
CQC Rating distribution
Of 10,625 nursing homes inspected:


Outstanding 4%


Good 72%


Requires improvement 22%


Inadequate 2%

Recommendation
9.9
Out of a maximum possible score of 10
(as at July 2022)