Palliative care is a sensitive and often difficult topic to broach with loved ones. We understand that moving into a care home when living with a life-limiting illness can feel like giving up. In reality, we find it's the opposite.

Our teams are trained to relieve the symptoms of a wide range of conditions, and it's our express purpose to improve quality of day-to-day life.
We take a holistic approach. So, we're not just alleviating pain and managing medication, we're there to offer complete support for our residents' emotional well-being, too. Making time to talk, demonstrating that everyone has real value; we've seen how these little details, the things that are all too easy to take for granted, have a real impact on residents' outlook and feelings of fulfilment.
We design care plans around each individual's physical, medical and emotional needs, and ensure their dignity is maintained at all times. That means making their priorities our priorities too. We foster a sense of community and encourage social interaction, lay on suitable activities and entertainment, and welcome frequent visitors from family and friends.
To find out more about day-to-day life at Maplehurst Nursing Home, please get in touch with our team. We'd be glad to show you around at a time to suit you.
Contact us today on 01444 455 434 to discuss your situation - we are here to help you every step of the way. Alternatively, you can use the 'Contact Us' form to get in touch.
Exceptional Care
Maplehurst Nursing Home
CQC Overall Rating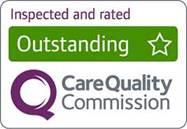 Latest CQC Review 8th July 2021
See the report

chevron_right
CQC Rating distribution
Of 10,625 nursing homes inspected:


Outstanding 4%


Good 72%


Requires improvement 22%


Inadequate 2%

Recommendation
9.9
Out of a maximum possible score of 10
(as at 31 May 2019)